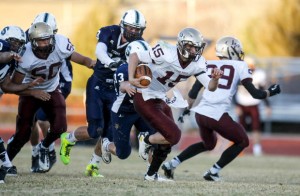 My favorite part of listening to a football game is when the commentator starts describing the player who has broken free from the defense and are on their way to score a touchdown. With their super intense expression, you can feel the excitement as if you were there, experiencing the touchdown first hand. The name of the game is to advance the ball. For believers, it is important for us to be purposeful about advancing the ball, when I say ball I mean Gospel. Not only that but shouldn't we be excited when those who are graced with an open lane advance the ball as well? Let's spend some time on both of these thoughts. Below is part 1 and next week I'll post part 2. Visit us next week for part 2 on how to Advance the Ball.
First let's get the ball moving forward. It's not enough to be on a team or in a church. Jesus said that we are the light of the world. The majority of Jesus' ministry was done outside of the synagogue, not inside. My point in saying this is that in order for the ball to advance there had to be a breakdown in the defenses.  Jesus was constantly around two types of people; those who would accept it the gospel or those who argue it. The Gospel advances when people give in to His Lordship.  When that happens no longer are the saints satisfied with sitting through a 30 minute sermon on Sunday morning, but they want to advance the ball. Are you in position to move the ball? How have you advancing the Good News?  Together we can make a difference in our communities, states and nation if we can transform our mindset.
I want to give you four quick thoughts on how we can advance the ball:
1) Think first-down not touch-down
So many young believers in this culture want to do something big for God. This is super exciting, and I believe it has been put there by God. However the problem I see is that many are getting discouraged because they are not scoring the touchdown fast enough. The basics of football teach players to focus on the first down not the touchdown. The Bible says faithful in the little, ruler over much. In other words, great things happen when you do the little things well! Today you have an opportunity to Be the One in your workplace, marriage, family, friendships and church. Do the small things well. Go start a conversation with someone and become a friend. Remember, Jesus was a friend to sinners.
2) Run the right plays
The apostle Paul said, "I pray that I don't bring a reproach against the gospel I preach." Listen, we have been saved by grace. Even when we fail, when we confess our sins He is faithful and just to forgive us. But if you want influence with other people you don't have to be perfect but you do have to be different. We can't move people to the light if we have adopted the darkness. On both sides of the ball there are plays. Both offensive and defensive plays are designed to put players in the right position at the right time to make something special happen.  God is not a mean guy in the heavenlies wanting to ruin all of your fun. Through His laws and commandments He wants you in the right position.  For God, your heart, worldview, lifestyle, and freedom are all important. Let's ask God to heal, set free, and restore areas that need to change so that He can trust us and bless us with influence.
3) Don't quit when it gets hard
There have been many games I've watched that the battle on the field is grueling. Yet it's the team that stays mentally and physically tough that pulls out the win.  The Bible says we don't fight against flesh and blood but the unseen evil forces. We must fight the good fight of faith.  Don't quit when you fail. Don't quit when it gets tough. You keep playing. That is how to advance the ball. In the book of James it says "count it all joy, my brothers when you suffer hardships." Don't let the enemy beat you in your mind with high sounding nonsense. Stay focused on our task. Let's move forward. You can do it.
4) Stay ready for a breakthrough, so you can score.
The one thing you can't predict about life is when breakthrough will come. But the one thing you can predict is if you quit, you will never advance the ball enough to score. Many of you are right where you need to be and I'm writing this to tell you to hold on, it's coming!!!  God is orchestrating something right now on your behalf. I'm talking to the seniors in high school that are worried about their next season in life. I'm talking to the man who is wondering about what is next in his career. I'm talking to the mom who feels like their life has been set on pause because of all the young ones they are taking care of. I'm talking to the single person who is concerned with finding their mate. No one can determine when breakthrough happens but when it does you make the most of it! SCORE! You have the power to change the score and impact the game. Don't just read first Corinthians 13 live it! Live it and watch what happens.
We are called to advance the ball! I would love to hear how you are moving the gospel forward. Please leave a comment I love hearing from you! Don't miss next week for part 2. Later Steven