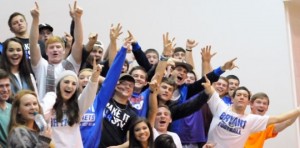 Glad your back! So for the last couple of weeks I've really felt in my spirit to write on the responsibility to move the gospel forward. If you missed the last two weeks you might want to catch up so we can all be on the same page. Here they are. Don't drop the ball and Advance the ball part 1
It is our responsibility to advance the ball. Sometimes that means that we actually move the ball down the field. But our focus today is cheering on all those who have committed to play hard and see the ball advanced. It is easy for us to be about "our" thing, consumed only with our output on the team, forgetting that other people are vital too. Even on the best teams there is more than one person who scores. Not to mention all those who help others advance the ball. It's so important that we cheer on those people who have it in their heart to do something big. Let's cheer loud instead of always debating theology. Let's encourage what they are doing right instead of dissecting everything they are doing wrong. The Gospel is the Good News! All those who are helping with a small group, ministry, Bible study, shelter, foster home, church, mission outreach, etc… THANK YOU! What you are doing is huge and we need all of you. As you continue to Be the One, know that your efforts are a blessing and your light is being seen. You are making a difference.
Below I have a few thoughts on someone who is advancing the ball:
1)       Pray
I know everyone knows this one. yet do people really pray? Are they coming before the king to fight principalities, powers, and darkness off of those who would advance the ball. It is important that we as believers stand strong in prayer for those who are paying the price to move the gospel forward. Pray for influence, opportunities, protection against the attacks of the enemy, and that their passion would stay charged.  Your prayers for other people aren't distractions from what God has called you to do, they are a help.
2)      Be an encouragement.
Never underestimate the power of a written note of encouragement. Many times when people are sold out to doing what God has called them to do they are so focused on advancing the ball that sometimes they need to hear how good that last play was. It's important to send a text, note, or post on their wall that you've seen their efforts and you are cheering them on! Promoting people is a sign of a good leader. It's ok to promote and cheer on the effort of others who are committed to moving the gospel forward. One person can't do it all. People need encouragement to continue on what God has called them to do. Your words can make a difference. Make a list of who you could encourage today. It may be perfect timing.
3)      Invest financially
Words are helpful but the true sign that you are behind someone is when you invest into what God has called them to do. It doesn't have to be much. Let's say you hear about a high school girl doing a Bible study at her house. Imagine what it would do to that girl if you said, "Hey, I heard about what you are doing at your house, here is $40 dollars buy a snacks after you guys get done. I'm so proud of you. Keep it up." That would strengthen that girl's resolve to continue. By investing financially you can help advance the ball and provide the opportunities to see lives transformed. There are many ways to Be the One and this is one huge way to see the Gospel move forward. Take a second and think about a person or ministry that would put your financial seed to good use for the kingdom.
If you have been blessed by these blogs please let us know in the comment section. Also, looking to become a partner with Be the One Ministries? We are praying for more people to partner with this vision to awaken a spirit and transform a life. Please check out more at http://stevensexton.com/donate/