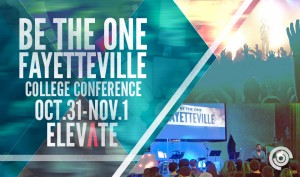 So on Oct 31st and Nov 1 is Be the One Fayetteville College Conference. Please help us get the word out as we know this is going to be powerful for the college age people who attend. Below are five good reasons why we feel you should come and bring someone to the Fayetteville event.
5. No money to make it to Starkville, Mississippi (Saturday's game against Mississippi State)
You may be low on funds right now. That's understandable because most college students make an average of $39.45/day-National Center for Education Statistics. But I have good news, we will be having FREE donuts from Rick's Bakery on Oct 31st and FREE pizza on Nov 1. So stay here, get some free grub, and let God feed you spiritually as we fill you physically!
4. No one wants to see you in an Anna or Elsa outfit from Frozen.
Ok, seriously "let it go," unless you're getting paid to dress up, I think you left this stage like ten years ago. The conference is casual so you won't have to buy anything new. Just come as yourself because that's who God wants to connect with. But if you have a cool Captain America outfit, that could spice things up a bit.
3. Because you're somebody worth knowing.
You're maybe thinking, "My friend quota is full!" Not so, you can always make more friends. Plus, if we're going to be in heaven together we might as well meet now. That way it's not awkward later. J But for real, we want to meet you and know who you are. Both Katie and I will be there hoping to meet new people and make new friends. 
2. Come hear a message directly geared for your stage in life.
Both nights our gathering will be focused on speaking right to your stage of life. Nothing will be over your head or beneath you. We could all use some direction and encouragement. So come and let's learn together!
1. A great time to connect with God!!!
The purpose of this conference is to see God activate who you are. You are so valuable to the kingdom of God. Too many time pressures, schedules, and demands take us away from really connecting with God. Come to the Church at Arkansas Halloween night, Oct 31 and November 1 at 7pm and get your praise on. God is always waiting for us!