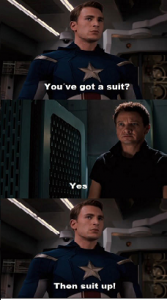 No doubt many of you have seen Avengers. Cool show, a lot of special effects, and a decent story line. Towards the end of the movie, right before the epic battle scene with the aliens, Cap says to Hawkeye, "Do you have a suit?" His response is "Yes," then he says "Suit up?"  I love this scene because it is a "be the one" moment. Captain America is saying that we have a job to do, so get ready for the battle.
As believers, we can never forget the enemy is real and his goal is to steal, kill, and destroy. Ephesians 6:10-17 tells us to suit up if we are going to stand against our enemy. I remember as a kid, my church taught me a song about the armor of God. As I would sing it, there were motions that went with each part of the armor. Yet as I got older I realized how intentional one needs to be if they are going to be dressed for battle. Paul knew very well the spiritual battle we would face and reveals the importance of how we are dressed.  I'm confident that believers can take back ground that the enemy has stolen if we suit up.
It's funny because for a year my son has been begging me to join Clash of Clans. Last week I finally broke down and downloaded the app to my phone. Over the last few years I've heard a lot about clan wars and people building their clan.  Now I understand what all the hoopla is about. This game is addicting! You are constantly trying to fortify your village from enemy that attempt to steal, kill, and destroy your clan (you see where I'm going with this). The game is frustrating because it takes so long to build something that can stand against the enemy. Everything you get starts small and is underdeveloped. Your clan becomes strong and well-grounded if you keep building and don't quit.
The armor of God isn't a verbal chant or some magic spell. It is a reminder, a rule, more like a system. Like, "I before E except after C." It's wisdom like, "don't spit into the wind." For us to stand in the midst of an attack; truth, righteousness, peace, faith, salvation, and the Word all must fit in its proper place. I believe that when believers start dressing themselves with these fixed pillars, the spiritual climate of our culture will change. These major points of our faith are not cute, buzz words; they're core to the believer. Remember, we are not defenseless. If God be for us who can be against us? Lean into truth, be covered by Jesus' righteousness, walk in peace, have faith when all looks lost, stand guard over your mind, and don't forget that we advance by living on His Word.  So I ask you, do you have a suit? If you do, then suit up!