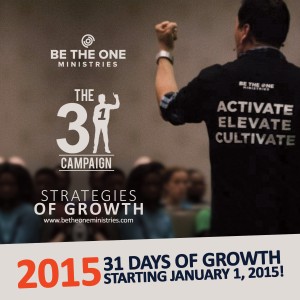 I truly believe over the next 31 days our strategies of growth will be just what you need to start this New Year off right.  Join many of us as we come together to be intentional with our relationship with the Lord and focused on breaking new ground.
In Gen 2: 15 God gave dominion to man and said grow it and make it better. That mandate from God to grow is deliberate and exciting. It pushes us, keeps us focused, it proves faithfulness, and above all, it's teaching us that God has given us work to do.
I believe this is going to be a great year for you, your family and your faith, but nothing happens just because we have the dream. We need more than a dream, we need a strategy. 
This is what the next 31 days is about:
Breaking down our 11 Strategies of Growth over the month of January.
Examining each strategy with 3 different blogs.
Equipping you by analyzing each of the 3 parts.
The Activate section will show you the Bible verse we are going to use for that day. The Elevate section will be the content. The Cultivate section will be your part in all of it.
Are you excited yet? Well you should be because I can't wait to hear and see all the great testimonies from Be the One Ministries' 11 Strategies of Growth. Let's get started January 1st,2015!!!
Steven Sexton